Originally published at: http://monchismen.com/espanol-away-la-liga-week-20/

Well, if this week has taught us anything it's what a difference 90 minutes of football can make! Doom and gloom surrounded the club after last weekend's dismal display away to Alaves, followed by a training ground confrontation between players and members of Biris Norte. It was safe to say we were in crisis, and for some media outlets Sevilla were officially a club in 'free-fall'.
League defeats to Betis and Alaves did nothing to warrant a defence to any of those claims, and had simply served to compound the misery of an already concerned fan-base. Player and coaching team confidence appeared to be at an all-time low, and Montella's position already looked to some as being insecure. All in all, an upcoming away trip to the notoriously ruthless thugs that call themselves Atletico Madrid seemed like the last thing we needed.
But then something happened. After some intense early pressure/kicking/diving etc. by the hosts, the Sevilla players started to find their composure and create a few half chances of their own. The body language was changing, and players looked to visibly gain a couple of extra inches. After a few scares they went in at half time feeling a mix of relief and belief. Not even a 2nd half Diego Costa goal could dampen their spirits. After all, one goal down would not be the worst result to take with us back to Sevilla for the 2nd leg.
Then something magical happened. Super-sub Jesus Navas with the deflected cross in the 79th minute, their keeper Moya flapped at it and unwittingly helped nestle into the net. Game on! And from then on only one team looked like stealing a winner, and so it came when Correa galloped onto a Ben Yedder headed through ball and calmly dispatched past the helpless keeper. 1-2 Sevilla! No one could have seen that one coming.
For both the team and supporters, our unexpected heroics in Madrid will certainly have gone a long way in building previously shattered confidence. And, despite it only technically being 'half-time' in the tie, when the final whistle blew on Wednesday evening there was a general feeling that we had witnessed enough evidence to signal some light at the end of what has been a very dark tunnel for Sevilla FC.
Which leads us to Saturday lunch-time, that sees us attempt to ride this current wave of enthusiasm as we seek to record our first league win in 6 attempts. This time it is our old friends from Catalonia, Español that stand in our way of ending that dreadful run of form. They are incidentally also floating on air after their own historic midweek 1-0 victory over city rivals FC Barcelona, so any thoughts of an easy three points should be quickly dismissed.
The squad list has been announced, and again no sign or Guilherme Arana. The reasons for this I don't know. Perhaps Montella is giving him some time to settle in the area, or perhaps he doesn't see much in him as a player? He certainly doesn't seem to have a thing for his compatriot PH Ganso either. Hopefully this is not the sign of an anti-Brazilian trend, and I am confident that it isn't.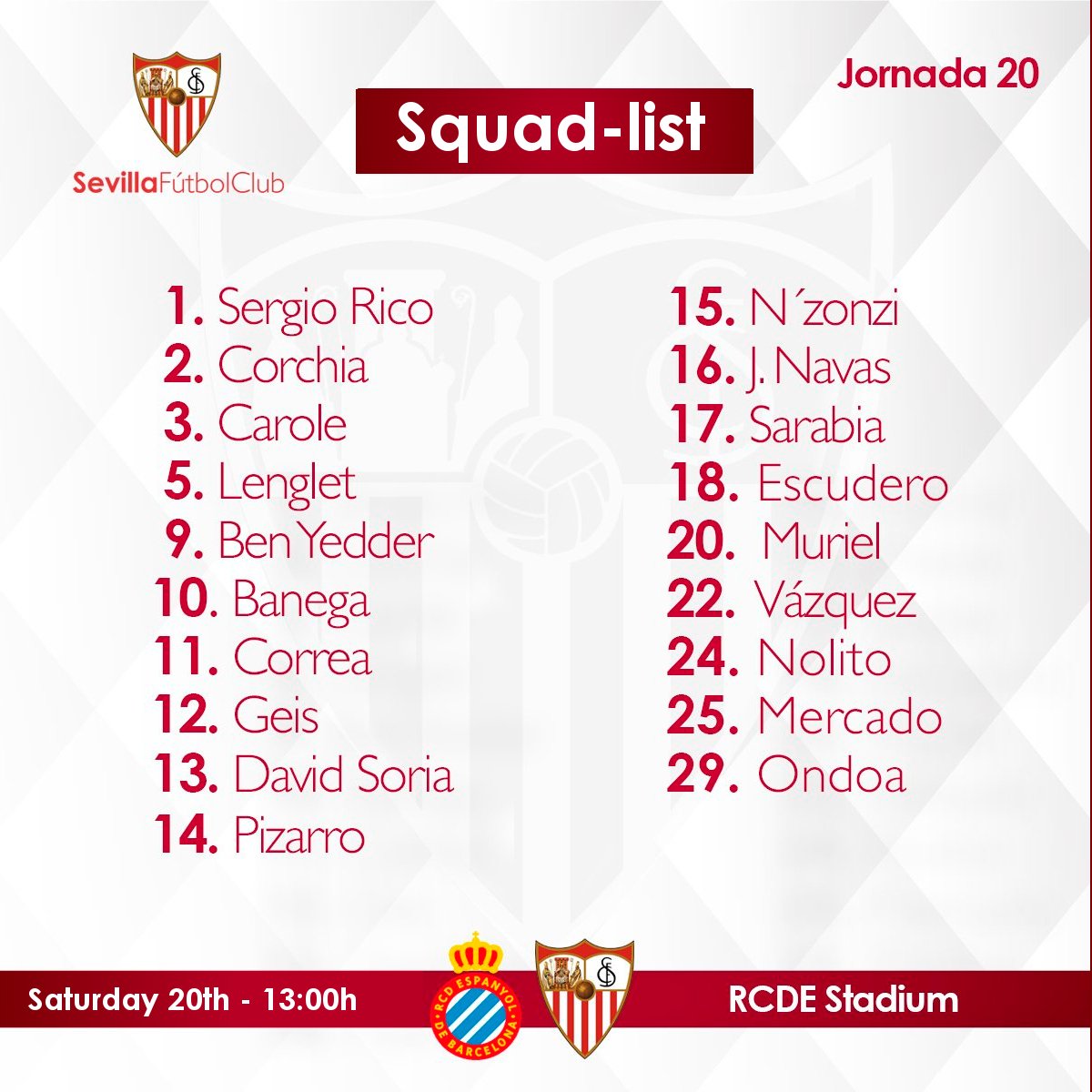 The same starting XI that we had on Wednesday would do for me. If it is not broke, why fix it? As for the score I have no idea, my heart says 2-1 Sevilla again, but my head says 2-2.
The time for Montella to win over the doubters is now, Wednesday could have been a one-off, and besides league points are the most precious commodity at the moment, what with a chasing pack including Betis breathing down our necks. And not only Betis, as far down as Real Sociedad, who are only 6 points behind us in 15th! So we really can't be dropping any more needless points from here on in if we want to keep the wolves from the door. We as a club want to be focusing at the teams above us in the table, not below us. A win on Saturday would give us some breathing space and belief to keep on looking up, in more ways than one!