Originally published at: http://monchismen.com/atletico-madrid-away-1st-leg-copa-del-rey-quarter-final/

Sevilla players were greeted at SVQ airport this morning by supporters holding a banner that read "No le falles a toda tu gente. Levántate y lucha" – roughly translated as "don't fail your people, lift yourselves up and fight!" - Which if the advice is heeded, would be just fantastic! The cold reality is however, unless things have changed dramatically behind the scenes since Sunday, we are on a hiding to nothing tonight in the Wanda Metropolitano against a ruthless and undoubtedly bloodthirsty Atletico Madrid.
The players know the fans are not happy with the way things are going, and I am sure at least some of them are hurting and want to turn this awful run around. Whether they are able to do that tonight is another story. Atletico already breezed past us 2-0 in September at a time when they were struggling and we were doing not too bad, but the trajectories of both clubs since then has been almost diametrically opposite. There is nothing quite like an easy home game against Sevilla to boost your sides waning confidence, as has been the case for a few seasons now for many clubs.
The recent form table does not make for pleasant reading either. We have now lost 4 of our last 5 league games, scoring 4 and conceding 14! Atletico on the other hand have won 4 of their last 5, scoring 5 and conceding only 1 measly goal. They are notorious for having the meanest defence probably in World Football, and on their day can make watching paint dry seem a more pleasant and exciting alternative.
Their attack will likely consist of the rejuvenated animal, otherwise known as Diego Costa, not to mention having ex-Sevilla stars' Gameiro and Vitolo to call upon. Even with just this brief preview, it is fair to say our chances don't look good, and the best we could probably hope for is to come away with minimal damage to our cup chances, team spirit and reputation.
Ok, I'm depressing myself and probably all of you now, so do we have any reasons for optimism? It seems like Chelsea's Belgian international forward Batshuayi will be joining us this window… and if Montella can get the team playing the way they did for 60 minutes against Betis (minus the leaky defense) then we will still be in with a fighting chance of salvaging something from this season. However, this is all to be seen.
Squad list, with notable omissions of Guilherme Arana, Simone Kjaer, and MKD, as follows: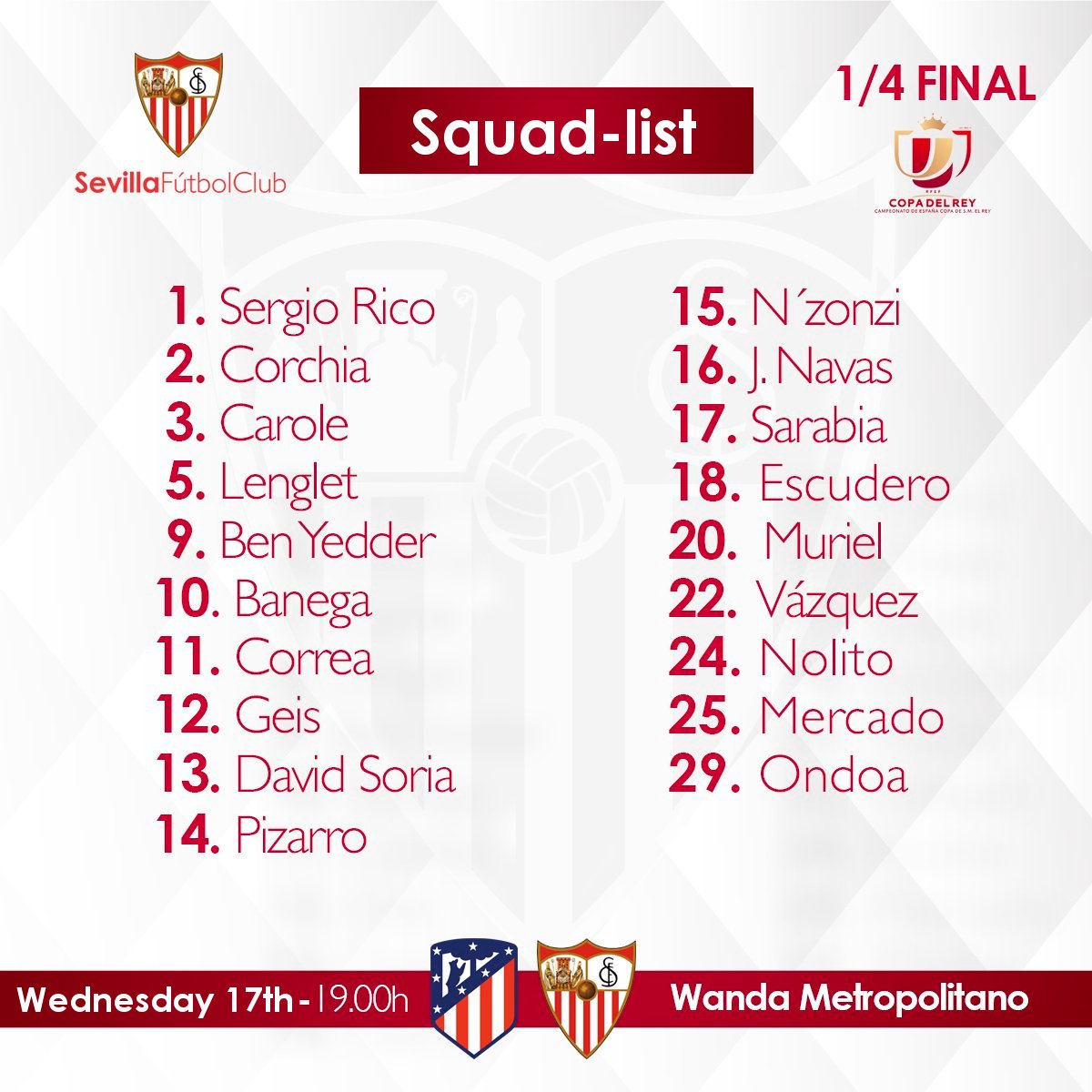 So, how do you think we will line up? Will it even matter? How about score predictions?
I personally would like to see us try and spoil the game, play our physically strongest players, Mercado, Sarabia etc. and do what we did a few seasons ago in the Calderon. Leave Ben Yedder and Correa up front to run on to any out-balls we can provide them with.
As for score prediction, I am going for 3-0 to Atletico, but I sincerely hope I am wrong and we can come away from Madrid with something to hold on to.