Hey everyone,
I know there's this conception about the team that we're always sellers etc and that that's part of our identity. But I saw this recent article on soccernet (god awful site but whatever, forgive me).
tl;dr, we are not in the top 10 of biggest profiters from the transfer market since 2010/2011, so I decided to see how we did stack up and pawed through transfermarkt for a bit. Please feel free to check/correct if you think I got things wrong, but here are our sales/buys each year since then and the players whose value (in or out was >10m).
It was interesting to me to realize just how balanced our in/outgoing transfers actually are. We should be grateful that our ownership generally reinvests in the team even if that isn't always perfectly balanced in a given year.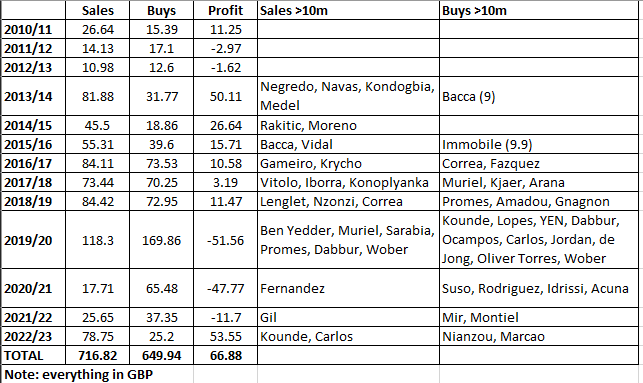 I hope that image works… Anyway, thought I'd share and curious about peoples' thoughts.
Cheers Sevillistas!