Originally published at: http://monchismen.com/alaves-away-match-comments/

Without a league win since early December, a beleaguered Sevilla travel north for a game they have no choice but to raise themselves for. Despite a couple of wins against Cadiz since Montella took charge, the mood around the club could clearly be better. After the humiliating gran derbi defeat last weekend, a win against Alaves would be worth a lot more than the already vital 3 points. It could prove to be a pivotal game in our quest to kick start our faltering season, and generate some more positive vibes in Nervion.
The bad news already is that we go into this game in 6th place without even kicking a ball, thanks to a resurgent Villareal who are now ahead of us after their impressive win in the Bernabeu. Realistically, Real Madrid are not going to be this bad for long, so as much as I love to see them lose, that result did not help us in the long term. Valencia, who also won 2-1 away against Depor, are now 11 points ahead of us in 3rd place. Even at this stage in the season, there is a fear that Champions League qualification could be slipping away unless we put together a good run of form soon… and that is what makes this game at Alaves all the more important. To come away with a loss is unthinkable.
Realistically, every team has a poor patch in the season, so we need to make sure that ours has officially ended. Do we have any reasons for optimism? Well despite the final result, and subsequent backlash of humiliation, there were actually a few promising signs to chew over against Betis last weekend. We looked far more competitive and entertaining than we had been recently under Berizzo, and were dangerous, albeit a bit reckless, when going forward. And, had N'Zonzi's header been only a few inches lower, we would have been at 4-4 with around 20 minutes remaining. Who knows how that would have swung the momentum, not just for the game, but for the season?
Also, another positive that kind of slipped under the radar of gloom, is that new Brazilian signing Guilherme Arana has arrived in Sevilla and is available for selection. From what I have seen he looks a promising talent. A predominantly left sided attacking full back, with comparisons to Sevilla legend Adriano to be expected. If he is half as successful as Adriano he would be considered a success. At only 20 years of age, one would hope the weight of expectation does not rest too heavy on his shoulders. He should be given time to adapt and grow in his new surroundings, and I am sure given the right environment, he can grow into a player who will eventually replace Escudero as our first choice in that area.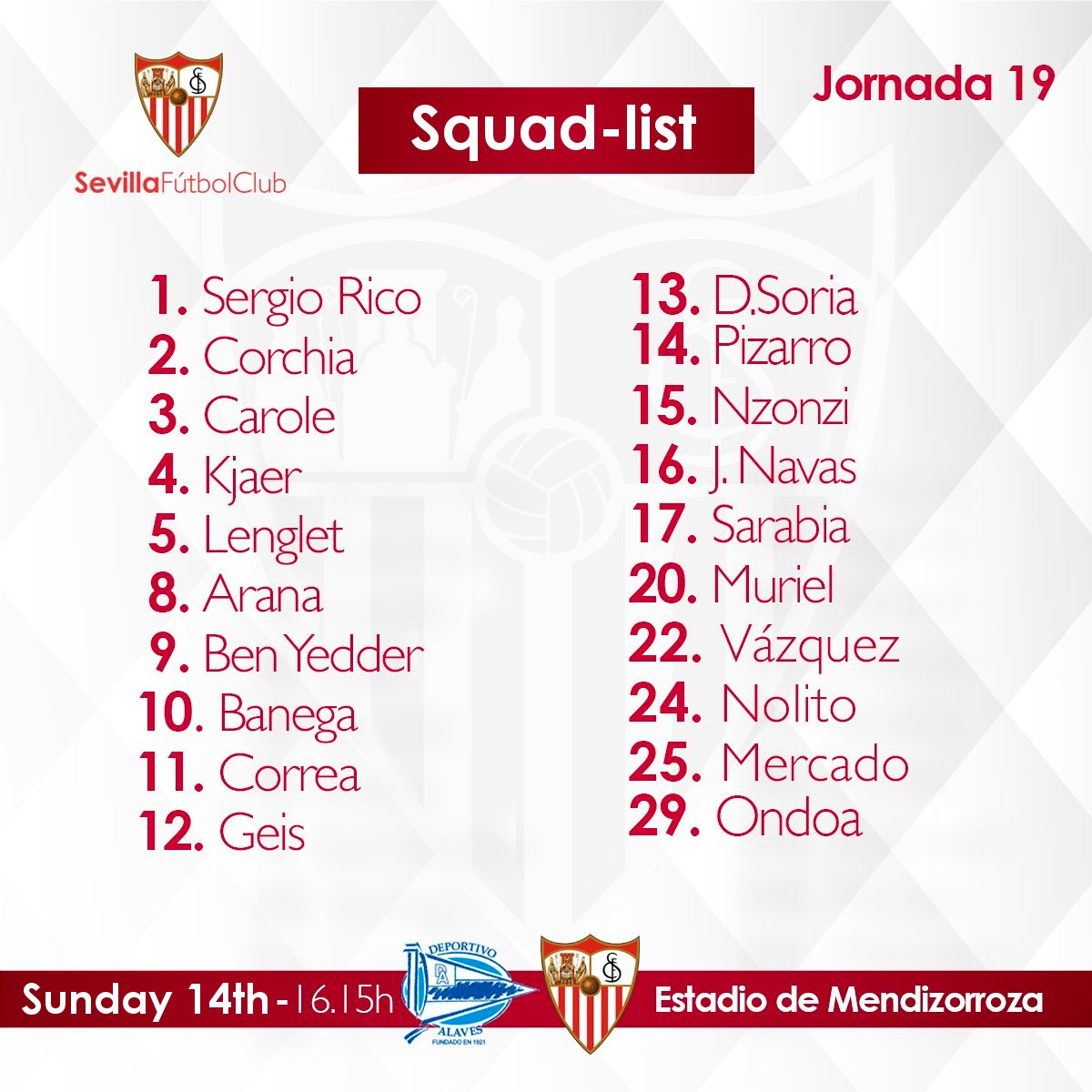 A few notable things from the squad list… again no sign of PH Ganso (who must surely have kicked his last ball in a Sevilla shirt), but also that we have THREE goalkeepers in the squad, with Fabrice Ondoa joining the travelling party! Hopefully this is a symbolic warning to Sergio Rico and David Soria that their place between the sticks is not a guarantee, or maybe one of the two first choice keepers is carrying a knock? Whatever the reason Montella has for travelling with three goalkeepers we can only guess.
As for the game, Alaves will no doubt be rubbing their hands in expectation of facing us in this time of weakness, and are sure to feel confident of a big scalp in front of their home fans. One thing is for certain, Sevilla cannot go into this game under any false pretenses, and Montella must pick his strongest available team.
So, with everything considered I'm going for a narrow 2-1 win, but with the hosts giving us a really hard time.
Transfer News
Some promising news is that Chelsea's big Belgian forward Michy Batshuayi looks like joining us on loan until the end of the season. With the player looking to force himself into the Belgian World Cup squad and in desperate need of playing time and goals, this could be a very good move for both parties, as we desperately need someone other than Ben Yedder to rely on. Batshuayi also offers us some physical presence that we are sometimes lacking.