This game for 23/24 is what the Almería game was to 22/23. Let's rewrite the script!
VAMOS!
Mendilibar very positive in the press conference before the Girona game. Talking about the best week of practice they had and todays training was really good. Lukebakio made a good first impression. Especially all the aspects that Mendi expected from him, he did really well. Sounds like he's ready to give him some minutes maybe. Sow also was spectacular todays training, but so were many others and he bases his starting line up for a big part on training performances he says. Jordan must be playing like prime Zinedine Zidane on the training pitch then no??
Fernando is also slightly injured won't make it. He has been on an off hurt all of last year too, if it's still that ankle injury that would be such a pain. Januzaj hasn't trained with the group and is physically not fit and he doesn't know anything more about him. Looks to be a hopeless case.
All I will say is please play actual Centre Backs this time…

Thanks in advance.
As important as this match is, i can't quite fathom the lengths at which the Spanish Football Federation is embarrassing itself. Whether it be fabricated statements, photoshopped images, or a whole assembly applauding a man's lack of accountability, perhaps it's actually easy to understand why Spanish football is the way it is.
Anyway…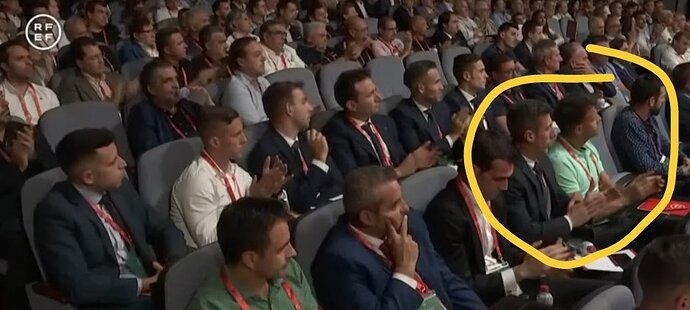 #RubialesDimision
#SeAcabo
#WeAreSevilla
Most worrying part is that RFEF just declared that Hermoso was participating in the kiss after video analyses…
They now accuse her of lies. I mean this is about what you can expect from them.
Can't we just ask if we may join the Portuguese League? this whole organization is in and in rotten.
They're mostly corrupt, he's got dirt on them and vice versa.
Rubiales is getting the Al Capone treatment, he's done corrupt deals with dirty governments and ironically he's going to get knocked down for a kiss and a vulgar display.
Also you noticed Matias Arbol now since the competition start being 3rd goalkeeper? What you think Jim, I remember you mentioned him somewhere a while back but to me its weird if Flores is there for the whole preseason.
That picture smells like, a disputable penalty, a questionable var moment and some extra yellows if not a hint of red for tonight.
Flores is number 3 but guessing he is probably doing work with the SAT team which is more important than the sub doing so as he needs to build an understanding and rapport with his defence before their season starts. They are still in pre season, season starts next weekend.
No idea what is going on with Alfonso Pastor. Hasn't been seen around the squad since returning from his loan at Castellon, was made the number 3 two years ago… Still contracted until 2026, but not even rumoured for any loans.

No Jordan. We have a chance.
Before we get too excited, it's Gil Manzano with the whistle and Jordan can spook us from the bench.
At last a chance to see Sow start. Thank god Jordan is benched! Lol It would be nice to see Lukebakio make his debut 2nd half too.
We really need to win this tonight to relive some pressure especially with the trip to Atleti next. Vamos mi Sevilla!
Mendi said twice during the press conference that their prep this week was mostly focused on Sevilla and barely looked at Girona. Any reactions to that strategy from our tactics gurus?
Five minutes in and I'm loving the intensity. Let's just keep it up please