No Ramos for this one and probably for Arsenal.
Ramos rumored to be out 2 weeks with the calf injury,making him doubtful for the derbi.
In a way that could be a blessing. The guys had a fab career, great player and leader but he's a bit past it now. I feel he's been a bit exposed last few games and his age showing.
We also need cool heads for the derby and Ramos while he can be a leader is a hot head at times and at risk of a daft red card. The :poop: players will look to wins him up.
Agreed, perfect chance to play Bade. Don't understand why he hasn't been starting.
Celta is a must win game. They've had one win all season and winless at home with just six points in total.
Sergio Ramos never got sent off (red card nor second yellow) in all of his 236 games for Sevilla and the Spanish national team.
I totally agree. Must win today and I rate Bade too.
I hope Acuna makes up for the costly mistakes he made in the last couple of games. Had we known about his decline we could have sold him. He was so close to being at his prime. We could have sold him for a pretty penny too.
I imagine come next summer a few players like Jesus Navas and Acuña will be fazed out. I can't see Joan Jordan being here next year either, but then you could say the same of a lot of players. Trouble is we cannot change a whole squad, it needs to be gradual, which is why I think this year even though it was a bit of a surprise, we are starting to see Juanlu Sanchez eased in as Jesus Navas' long term successor.
Dmitrovic - Probably gone
Gattoni - Probably be loaned out
Pedrosa - Starting LB next year
Sergio Ramos - I imagine will retire
Ocampos - Probably move on
Gudelj - Will be here until he dies
Suso - Probably hanging on for roster padding
Jordan - Please go
Rafa Mir - Depends who we bring in
Rakitic - Squad player at best
Lukebakio - Stays
Mariano - Gone
Nyland - No comment
Nianzou - Squad player at best
YEN - Probably sold
Jesus Navas - Squad player at best
Lamela - Depends if we get offers
Sow - Stays
Acuña - Gone
Fernando - Gone
Oliver Torres - Probably gone
Bade - Stays
Marcão -


Soumare - Stays
Januzaj - Please go
Juanlu - Stays
Next season (and yes I know we are barely into this season yet) realistically…
GK: New #1, Nyland
RB: Juanlu, Jesus Navas
LB: Pedrosa, New LB
CB: Bade, New CB, Nianzou, Marcão, Kike Salas
CM: Gudelj, Sow, Soumare, Rakitic, New CM, Pedro Ortiz
WGs: Lukebakio, Lamela, Suso, New WG, Isaac Romero
CF: 2x New CF, Rafa Mir
R Madrid are already sniffing around as a replacement for Dani Carvajal
Well Real Madrid can sniff this…

and this…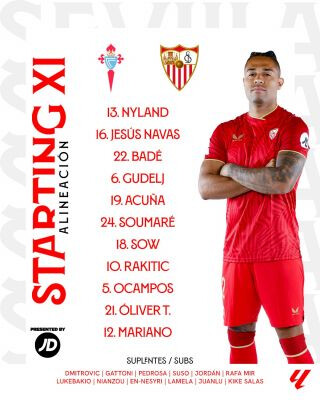 5 midfielders approach. Mariano in front.
I always think Celta is a risky but fair footballing opponent. And think there will be more opportunities and more free flowing play than against Quintanar.
No defensive gifts today please and I believe in a controlled 0-2 victory.
When we lose, media and surroundings already pressuring Diego Alonso. Not reasonable in my opinion, given what was given to him but we do need results

I agree. I'm looking forward to it too. We need the squad to completely change. We still have too many washed players, old players or ones not that good. Need a revamp again.
They might sniff a clause that was put too low and then we are screwed again.
Pretty right, couple things I see differently. I feel the board's bond with Ocampos now is stronger after the failure of last year, as well as Ocampos his wish to stay after having experienced utter exile and depression in Amsterdam. Besides he has been doing good work so far. I can see the extension come in.
Also paradoxical I feel the board wants to let Mir go, even though they made it difficult for him to leave and kept him in. Just general vibe around him and his reactions on the field, social media all gets more negative. Besides the opportunity to bring Mariano over him on almost any opportunity shows something too.
There is something to be said for the nation, but I'd prefer Suso to leave and bring a fresh one in.
Names like Melamed and Pellistri I believe are the types of transfers to look at. I don't follow them exact either to know their details. But if after intensive scouting they go for them I think it's a correct approach to try and grow again.
Ocampos, deservedly, being the only recognizable winger starting says alot about the lack of production from our attackers. I don't mind Oliver too much cause he's a creative and will at least provide a different look to Ocampos. Mariano is a capable finisher if he's sharp. But is he at that stage yet? I could see these 3 mixing it up if we're able to establish some good possession in Celta's half.
It's my preferred midfield for this season and I hope Sow can do a little more and breakout in that B2B role. I'll never forget Iborra scoring a hattrick here. I'm not asking for all that from him, but something that tells me he won't hesitate to look for goals.
We MUST win at all cost. Don't care if it's the ugliest game of all time. Vamos mi Sevilla !!
We have to get younger regardless. And he's not making a case that he's doing better than Ocampos & Lamela. Some brilliance here and there, but i lambasted Mudo for much less.