777777777777777777777777777777777777777777777777777777777777777777777777777777777777777777777777777777777777777777777777777777777777777777777777777777777777777777777777777777777777777777777777777777777777777777777777777777777777777777777777777777777
What a great second half by us with great subs by Mendi. He had this team ready to go, everyone looked really engaged. Suso looks like a madman out there, I liked how you could see Mendi yelling at them to cross the pitch to get the ball to him near the end. Great to see Navas play in games like this too, he loves it.
What exactly happened with that encroachment at the end? I never saw what caused the re-kick. Weird choice of penalty takers by Mourinho too.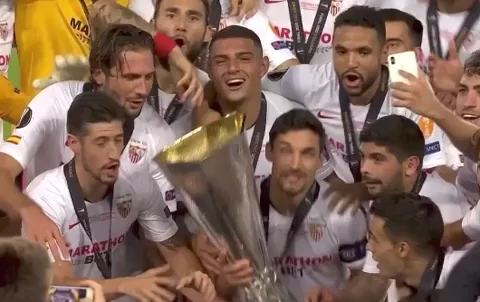 Congratulations everyone!
Massive congratulations to everybody. Unreal season from the depths of the sewer to the bright silverware at the end. Hard to believe, but for Sevilla nothing is impossible.
Compartiendo la gloria en tu escudo orgullo de futbol de nuestra ciudad.
This was 100% the key to the trophy. Mendi sensed early on that Oliver but especially Gil were not up mentally for a final like this, plus the tactics changed a bit and probably the half-time talk worked.
Mendi deserves at least a 2 season contract after what he's done for this short stint. Or maybe a 1+1 at least.
I'm joyous but also angry at the insufferable way Roma played this final. Dawg, even Dnipro came at us with more than these guys! Mourinho is not always anti-football, but is seems like they only had one plan. The game was as frustrating as this season was on all of us. But somehow, Sevilla still manages to win the Europa League. What a club!
Im so happy for everyone this year… its been tough at times. What a triumph! Arguably our best so far given the situation we were in. Mendi changed everything. So happy for unsung heroes like Oliver, he wasnt included in tne CL squad, now he has won the EL. Honestly guys this achievement is up there no question at all. What an amazing club we are part of, what a sensational journey. Legends returned like Navas and Rakitic this is unbelievable…
So when are they going to release a kit with a 7 EL patch?
Hopefully we won't need that if our plans are to stay in the Champions League.

I mean I just wanted to buy one

Still fun to think about. In our worst season in 20+ years, we turned it around, and won the Europa league. :poop: in our shadow yet again
Apparently people online think Roma was robbed lol
I think the price of my season ticket just increased by 25% from yesterday

Funny how they all happen to ignore the potential foul in the buildup for Roma's first goal
Jesus Navas has won more major trophies than

has in their 115 years in history
and the sketchy penalty decision against Ocampos