START TIME
Thursday, October 24th, 2019
1500 EST / 2100 CET / 0500 AEST
Another European night at the Pizjuán awaits us as we confront 4-time defending Luxembourg champions, F91 Dudelange. They are the first team from their country to reach the group stage (last year), and won their first ever group match in Matchday 1 vs APOEL. Wouldn't it be nice to give them a warm welcome to one the fortresses of Europe?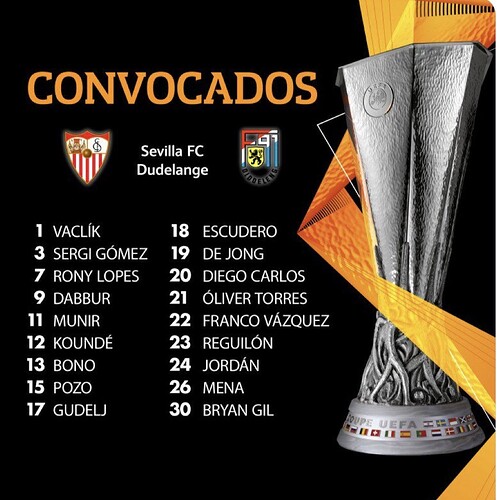 The EL will be the competition for fringe players to get their minutes. For such a new team, it's crucial to have these extra matches to get players to gel. This time around, Lopetegui has managed to include Sevilla Atlético midfielder Pepe Mena in the squad.
CHEMISTRY
Perhaps what is lacking the most is how comfortable the players are with each other. Hence, the 1-0 result on the weekend, as well as in the previous matchday vs APOEL. Thankfully LdJ broke his duck on Sunday, and can hopefully now finish chances confidently. Another win here and we'll be close to clinching top spot in the group.
¡A por ellos!
#MeLateTuEscudo