The Sánchez-Pizjuán this afternoon, after an intense hailstorm that lasted for an hour.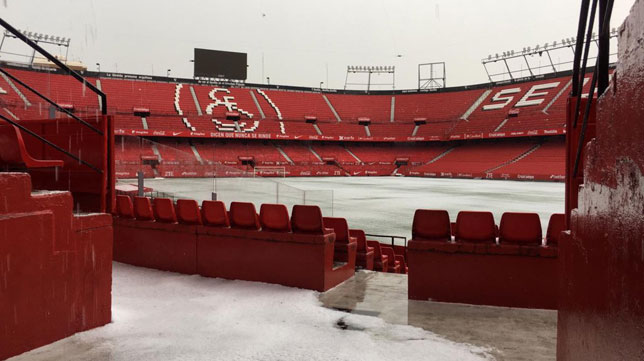 It's just hail. All hail Sevilla.
I'm just 3 miles away and nothing apart from thunder and lightning and short but intense bursts of rain, but the thunder was different to normal, it usually rumbles for minutes as the sound rebounds from the Sierra but these were short bursts, so obviously originate over the city centre where the buildings cut out the prolonged rumbling.
But I knew this was going to happen, just two weeks ago the weathermen said it would be a hotter than normal Spring with less rain than normal, so clearly the opposite is in progress.
Yep. Crazy weather today.
We have just spent a few days getting away from all the madness that is "holy week" in Sevilla down in zahara de los atunes in Cadiz where it was warm enough even to see people in the sea, until this morning that is when the thunder storms hit.
Travelled back to Sevilla to a doctors appointment where we were met by bright sunshine in Triana, had lunch outside in t shirts, then home to put the heating on after driving through torrential rain and more thunder storms.
Do you usually get away from the holy week stuff? I seen a few costumes, and for me seeing them out of context i easily mistook them for klan costumes. But i heard they really do the most in Seville compared to other parts in Spain.
I remember it was snowing in Múrcia a few years back. But hail in Andalucía has got to be a rare thing no?
We get away from it every year.
It's that or suffer drums & trumpets playing dirge music all hours of the day & night. Not much fun when they are passing underneath our bedroom window at 3am.