First thing came to mind when I looked him in the face was Bastion not sure why, could name it Doug too.
Also what happened to the old one? If it passed r.i.p.
Bilbo

Luuk

He got a dog not a donkey




Well if there was one of our players to name your pup there can only be one, always there when you need him and when you don't he is also there, Nemanja Gudelj.
The other dog is still around

Holy shit a woman on the forum! haha This is my girl everyone. She's a decent egg and let's me get away with watching Sevilla and edit the pod for hours on end.
What type is it?
I had one, called it Spud, later one called Dex and lastly one called fishcake.
A friend has one called Torino, in tribute to that UEFA victory.
With that chest marking, what about Blaze?
Look at the size of his paws! This boy is gonna be huge,

Not super sure. We were told St. Bernard mixed with Australian Cattle Dog. We will do one of those DNA tests a bit later.
The online calculations based on weight and age has him around 80 lbs. I'm hoping those are accurate. I don't think I can handle a 150 lb doggy. haha
I like the Torino idea @TimSpence2 .
I wanted to go with a former/current player name, but nothing seems to match his personality. I thought Biri Biri, but @Christin didn't like it.
We are thinking something around Jazz since he's been able to fall asleep when I throw on some Coltrane or Miles.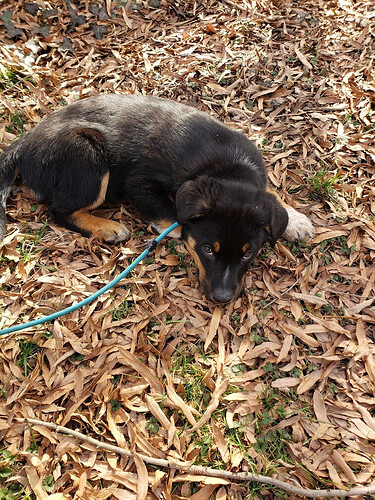 Joke …
A guy wants to buy a dog and he sees an advert 'Dog for sale $10, speaks 6 languages'. It's close by so he decides to go see the dog just for the laugh.
When he gets there he asks the seller 'Where's the dog for sale' and he replies 'in the back room watching TV, go through'
So the guy goes to the back room and sure enough the dog's there watching TV and he says 'Hello doggy' and the dog replies 'Hello!' and the guy says 'Wow you can speak', and the dog replies 'yes, of course'.
The guy is a bit shocked and asks 'how can you speak' and the dog replies 'Well, I could always understand people and by the time I was 2, I could speak. But the Russians found out and kidnapped me, taught me all the European languages and used me to spy on double agents. Then the double agents started to suspect me and I had to escape'.
So the guy goes back to the seller and says 'How come you only want $10 for a dog that can speak?' and the seller says 'Look, the most I'll accept is $15, because the dog just sits about watching TV all day, and worse still, he's a bloody liar, he's never been a spy or been to Russia'
Thanks! Sorry, I'm not going to be living on here like Chris

But I'm so happy that there's such an awesome place for you guys to get together to talk about Sevilla.